A well-conceived clinical space can improve the care experience for patients and staff alike.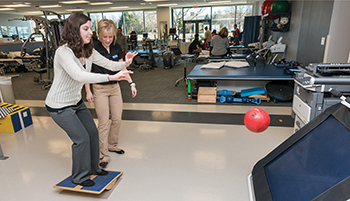 Tara Jo Manal, PT, DPT, FAPTA, has no training whatsoever in construction, architecture, or interior design. She is, however, a seasoned physical therapist (PT), and she knows from experience how a physical therapy clinic should be built.
Manal, director of clinical services and residency training in the physical therapy department at the University of Delaware, led the total overhaul in 2013 of the department's 10,000-square-foot outpatient clinic. Initially, she recounts, the department turned to a local architectural firm to draw up a set of plans. "We told them what we wanted to accomplish, and what we needed in terms of rooms, offices, and places for equipment," she says. "When I looked at the plans, it was clear that they'd tried to incorporate everything we'd asked for. But it also was obvious that the design was never going to work."
The problem primarily was sight lines and distances between the spaces the practice's clinicians would use the most. "One thing they did was put all the offices around the perimeter so they'd have windows that looked outside," Manal recalls. "The center of the clinic would be wide open. That sounds nice, but we need to watch our patients, not look out the windows. And walls are important, because without walls to place things against, you have nowhere to put everything."
Manal asked the architects what structurally had to stay and what could go. They told her that the building's 4 interior columns were structural, so moving them was out of the question. Beyond that, "We could do what we wanted," Manal says. "So I chopped what they gave us into pieces. We then rearranged the parts to make it work."
As they did, the architects and Manal mapped out exactly where equipment would go, adding outlets and data ports as needed. They segmented the space with a series of half-walls—high enough to define treatment areas and pathways but low enough to provide PTs with clear sight lines. "Functionally, it's perfect now," she says. "When you're standing at certain spots you can see across the entire clinic, but you still have the needed space and privacy to do your work."
Deciding to Design
Chances are there isn't a PT in the country who hasn't dreamed about ways to improve his or her clinical space. Most practices, after all, could use some sort of upgrade, whether it's a fresh coat of paint or better flooring or lighting. And more than a few could stand to start from scratch—whether by packing up and moving to a new location or by tearing down walls for a custom rebuild. Growing practices start to burst at the seams, forcing owners to weigh the merits of expanding to meet demand. Or, there's mounting pressure from nearby facilities: When competitors decide to invest in flashy remodels, it's only natural to think it may be smart to do the same.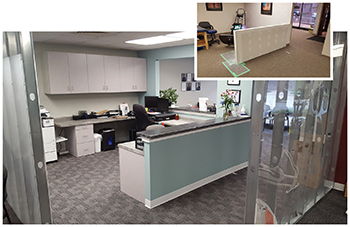 There are, of course, potential drawbacks to renovating: expense, disruption, questionable returns. And while studies conducted primarily in hospitals have shown that high-quality facility design can lead to better patient privacy, decreased risk of infections and injuries, shorter stays, and lower costs, other research indicates that patient satisfaction is unlikely to be swayed by aesthetics alone.1,2
"You can't just assume that by opening up your clinic and flooding it with daylight, your patients will love it and clinical care will improve," notes Deborah Franqui, health care market leader at the design firm Leo A. Daly and coordinator of health care design programs at the University of Miami School of Architecture.
Whether you intend to build a facility from the ground up or renovate your current clinic, it's important, Franqui says, to base design decisions on information gathered from all stakeholders. "You have to involve all of your clinicians and, in fact, everyone in your organization, because they all use the space," she notes. "They know what works and what doesn't. You also should engage your patients, if you can, because their perspective may be different—and that may affect the decisions you make."
Joe Latozas, an architect and senior associate with Designhaus Architecture in Rochester, Michigan, agrees that thoughtful collaboration can be the key to successful health care facility design. Latozas, who has several physical therapy offices in his clinical-space portfolio, says the first thing he does is sit down with clinicians and ask about their process: "What happens when a patient comes in?" "Where's your staff, and what's their routine?" Then he spends a half-hour or so "just observing what happens as everyone does their thing."
As he watches, Latozas says, he considers his own experiences as a physical therapy patient and tries to put himself in the shoes of those he sees in the clinic. "Physical therapy can be a strenuous process," he observes, "so I'm always looking for ways to make it easier on the patient—to create an environment that patients will enjoy visiting, and hopefully will want to return to."
From there, Latozas typically will produce a rough schematic floor plan, then meet with the clinical team to get their input. "That's where everything hopefully comes together—during that process of reviewing and revising," he says. "You start tossing around ideas and thinking things through, and you eventually get to a design that yields the outcomes you want to achieve."
Putting Patients First
One PT who is quite familiar with that creative process is Jeff Leatherman, PT, DPT, MS. He's program director of the physical therapist assistant (PTA) program at South University in High Point, North Carolina. Leatherman, who also works part-time with patients at Pivot Physical Therapy in nearby Greensboro, has been involved in the design or redesign of 3 different practices, beginning in the late 1990s.
The first, he recalls, was a small satellite clinic that his then-employer built from scratch in a strip mall. A few years later, as a private practice owner himself, Leatherman led the "up-fit" development of a 2,000-square-foot clinic attached to a much larger sports performance and fitness facility. Finally, there was his most recent project: the complete overhaul of a former automotive center to create the space that now houses Pivot.
"We'd outgrown our previous location," he says, "and were searching for something that might fit us better. I came across this old tire-service place. It was kind of odd but also ideal." The 9,000-square-foot facility included 3 wide-open bays, 22-foot ceilings, and a storage area in the back that Leatherman imagined as a gym. The renovation, he says, "was nasty work" but ultimately was well worth the effort.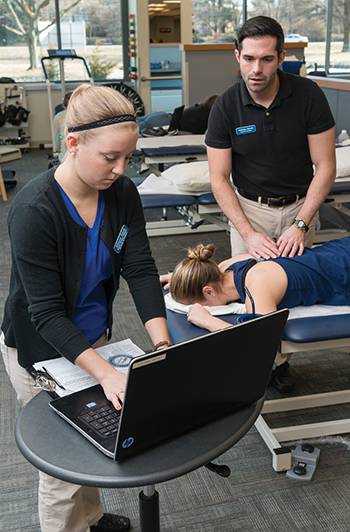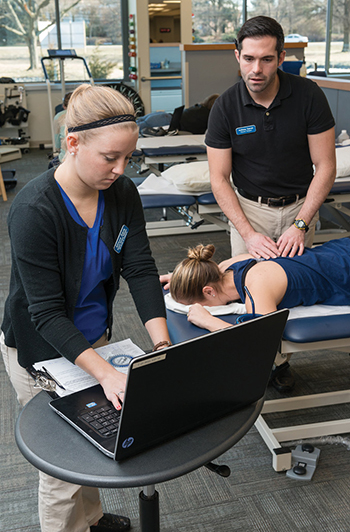 "We knocked out a bunch of walls, built a couple others, and had a lot of fun getting it into shape," Leatherman recounts. Much of the work was completed by Leatherman's brother, a contractor. They didn't use an architect because they already had a clear vision of what they wanted to do.
Still, "there was a lot to consider," Leatherman says, and it took time to get things off the ground. "We had to deal with permits, accessibility requirements, and so on. And we had to make sure that we'd thought of everything"—from office locations and treatment room placement, to lighting and storage needs, to where to put the gym equipment. "But the biggest thing all along was taking a patient-centered approach," he says. "We wanted it to be a place where our patients felt special—where their experience was positive the second they walked in the door."
Todd Schemper, PT, DPT, partner and chief operating officer of Kinetic Edge Physical Therapy and a board-certified orthopaedic clinical specialist, took a similar approach to recent renovation of the clinic he manages in Des Moines, Iowa. His team didn't employ an architect but did rely on the goodwill of their artistic landlord, who financed the work and helped design the new space. "We'd been here for about 10 years, and all we'd done when we originally moved in was put carpet on the floor and paint the walls," Schemper recalls. "We finally reached the point where we needed to spruce it up—to modernize and make it more patient-friendly."
Toward that end, Schemper says, they shifted the position of their front office and moved the patient fitness area so their clients could see outside as they exercised. They tore down several walls to make the clinic feel more open but added Plexiglas panels in certain places to delineate areas and block noise. Finally, they added LED lighting (planning to pay for it through savings in their energy bill) and finished the space off with an uplifting color scheme. "It feels more exciting now," says Schemper. "It makes it easier for us to nail that first impression. Our patients come in and see that it's updated and well-kept. That makes a difference in how they experience their care."
Best Practice for a Better Clinic
Back at the clinic at the University of Delaware where Tara Jo Manal leads her team of clinical faculty and students, there also is the sense that the recent renovation has had a real impact on patient care.
"We did so many things that I would describe as 'best-practice' kinds of initiatives," Manal says. "These changes have helped us do our work more efficiently and have improved our ability to serve our patient population."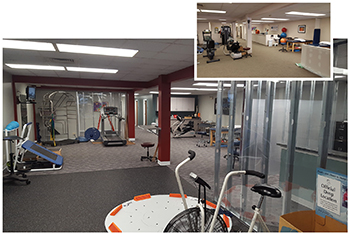 For example, she says, they created a station where patients check in to record their pulse and blood pressure and calculate their body mass index. "We used to be inconsistent about getting those measures, because on the floor it always was hard to find a spot to get it done. Now it's automatic because it's part of the process when patients come in."
Similarly, Manal says, her group designed "touch-down stations" throughout the clinic that contain protocols, rehabilitation guidelines, checklists, and other reference documents that PTs typically need as they work with patients. "Often it's much easier to see something on paper than it is to have to look it up electronically," she notes. "This way, everything is in 1 place, and it's never more than a few steps away."
There are other functional improvements, too. At every bed, for example, a metal basket built into the half-wall contains equipment a PT might need—a pair of scissors, a new roll of tape, a goniometer, an electrical stimulation machine. Walls used by patients during certain exercises are covered in a special plastic wallpaper that is easy to wipe down and is more durable than drywall. ("In our old clinic we'd wear grooves in the cinderblocks," Manal notes.)
Standard measurement lines for movement and agility testing have been incorporated into certain areas using stickers on the floor. There are permanent tracks, including one with a harness system, that patients follow around the clinic for their timed walking tests. "We even built a training bathroom and kitchen," Manal says. "There's a refrigerator, stove, sink, shower—everything you'd expect to see in a patient's home."
One addition that she particularly likes is 1-way mirrors throughout the space that allow her to watch the action from almost anywhere in the clinic. "When I'm in my office, there's only a 10-by-20-foot span that I can't see, even when I'm sitting down," Manal notes. It's a feature that would benefit any facility, but it's especially nice, she says, to have in a space meant for teaching: "We have students here who are learning and practicing new skills, so it's great to be able to keep an eye on everyone and know how things are going at all times."
Looking back, Manal is glad to have worked with a design firm that was receptive to her and her colleagues' feedback and open to modifying its plans to suit their needs. At the time, she recalls, she'd been at the clinic for 22 years and for the most part was satisfied with her workplace as it was. But she also felt the space could be better with tweaks here and there. "I knew there were things that we could do to make this clinic function exactly the way we wanted," she says. "What I wasn't sure about was how we could get there—what rules we had to follow or square footage was required."
The architects, Manal says, knew those rules, even if they weren't that familiar with physical therapy. "That was the beauty of this project: We came together from our different backgrounds and perspectives to create a design that works."

Let's talk about your business challenges today.
Our fresh perspectives, experience, and specialized skill sets will get your practice where you want it, and with far less stress.
http://www.apta.org/PTinMotion/2017/10/Feature/ByDesign/
---