All of the PT passion, skill, and energy in the world can't guarantee a successful practice. You need knowledge.
JOIN PRACTICE OWNERS, STAFF THERAPISTS, FRONT DESK STAFF AND BILLERS TO LEARN 100+ WAYS TO RUN A MORE PROFITABLE, PRODUCTIVE AND EFFICIENT PRACTICE.
Don't miss Kevin Rausch speaking on key topics.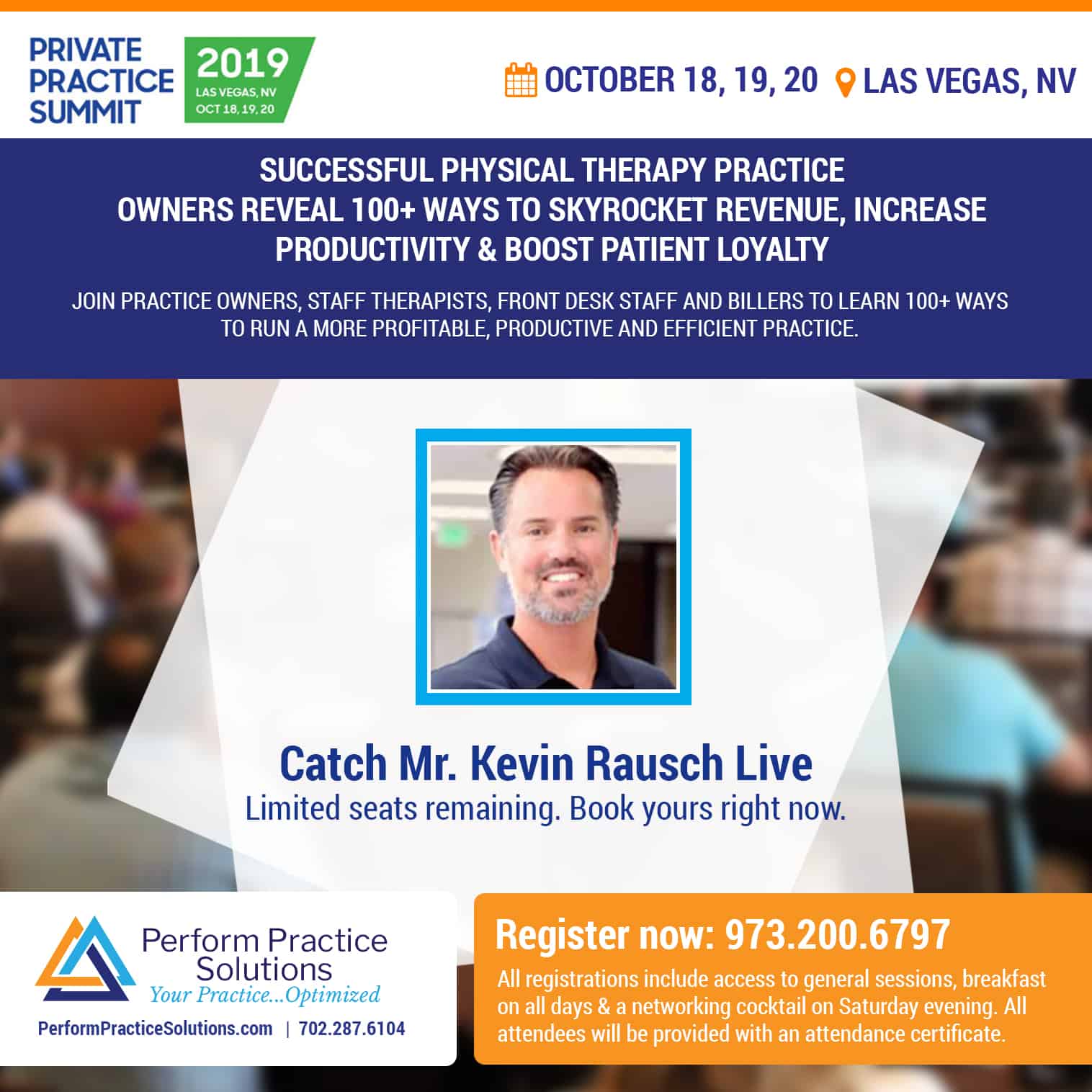 WHO SHOULD ATTEND THE PRIVATE PRACTICE SUMMIT?
PRIVATE PRACTICE OWNER
If you are successful, and own multiple clinics, and are looking to get to the next level

If you are about to open your second and third clinic, and need proper systems in place

If you just started, and want to avoid mistakes from day one!
STAFF PHYSICAL THERAPIST
If you are the bottleneck in your own practice and need to build a team around you

If you are overloaded, and stuck with your day-to-day tasks as a therapist

If you are a senior therapist, who someday wants to open their own practice
PRACTICE ADMINISTRATOR / MARKETER
If you want to increase referrals and diversify your referral sources

If you want to understand which metrics matter and how to measure and improve them

If you want to grow your practice by attracting, hiring, retaining and motivating staff
FRONT DESK
If you want to simplify benefit verification, pre-authorization and scheduling

If you want to use technology to make your life easier

If you want to reduce your appointment cancellation rates
BILLER
If you want to reduce claim denials using technology that can fix errors

If you want to identify ways to increase revenue by analyzing payment trends

If you want to renegotiate payer contracts for higher reimbursement
OCTOBER 18, 19, 20 in LAS VEGAS, NV
https://privatepracticesummit.com/

Let's talk about your business challenges today.
Our fresh perspectives, experience, and specialized skill sets will get your practice where you want it, and with far less stress.
---