Today's healthcare arena is composed of countless providers and the offering of physical therapy clinics follows suit. Due to the overwhelming availability of specialized treatment facilities, patients must do their research in order to pinpoint a therapist that best fits their unique needs. While recovery focus, which can vary from occupational therapy to sports-related injury rehabilitation, remains a key factor in selecting the right clinic, overall patient experience is critical in determining whether patients choose to return and continue their journey to health. Below we'll discuss how selecting appropriate furniture and finishes for physical therapy environments can help evoke positive first impressions and a lasting relationship between patient and provider.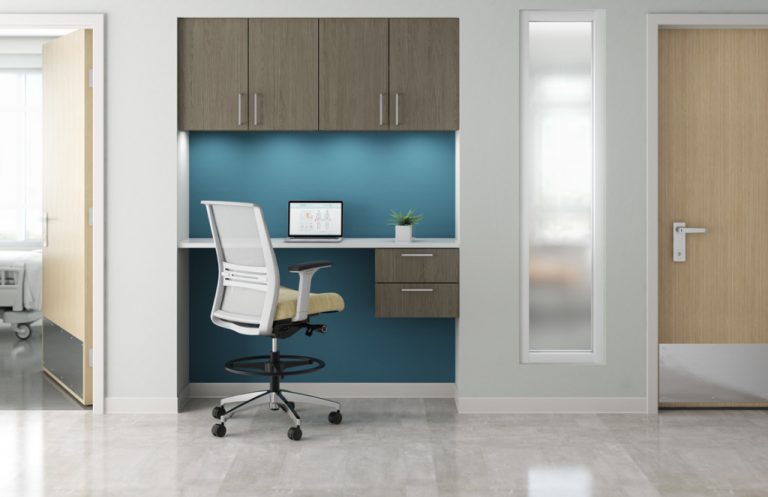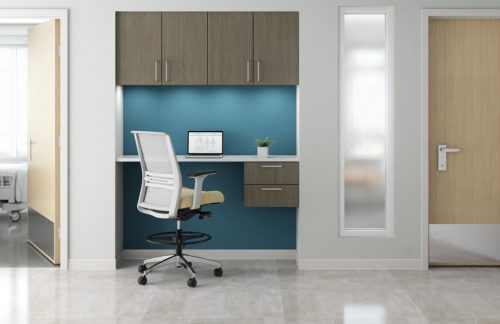 Designing Your Space
It comes as no surprise that interior design plays a crucial role in the success of healthcare facilities. After all, how can these providers expect to rehabilitate their clients without the necessary equipment? Treatment tables, storage cabinetry, a variety of seating options and proper flooring all play a part within a physical therapy office and are imperative for staff and patients to achieve their goals. A clinic's most significant cost will be its staff, so providing them with the tools they need to be efficient in their work will ensure profitability.
Since physical therapy business is referral-based, clinics must inspire a powerful and positive first impression to ensure that patients return for continued treatment. Furniture, finishes and overall functionality play a powerful role in attracting and retaining clients. While interior design will differ between facilities depending on their specialty, physical therapy spaces all aim to provide rejuvenation and restoration of balance. Proper use of these primary elements will help trigger positive first impressions, aid in patient healing and lend a hand in overall clinic profitability.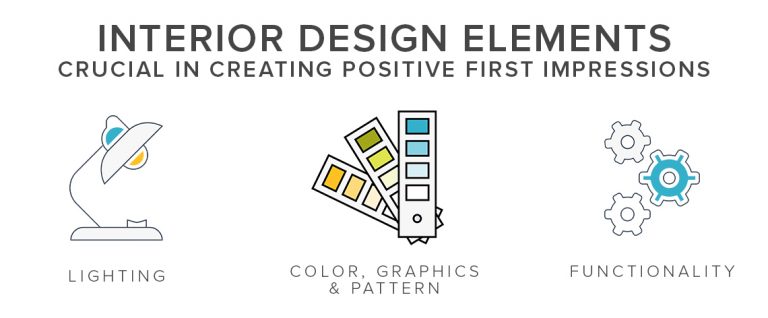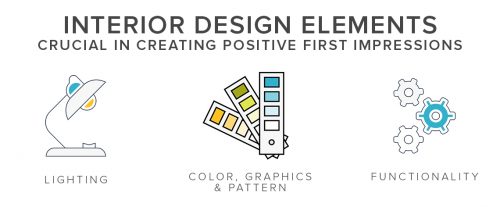 Lighting: No other medium is as influential on our bodies and minds as light. Studies have shown that natural light deprivation can play a detrimental role in health and well-being, so it obvious that healthcare facilities should allow for as much natural light to permeate their space as possible. Adequate exposure to natural light supports healthy bodily functions, reduces stress and boosts moods, all of which promotes motivation and a sense of rejuvenation for patients. While artificial lighting is also necessary, it is important that it not impede upon provided care. Avoiding overbearing brightness and spaces that are too dim will help staff and patients remain comfortable and efficient.
Colors, Graphics, Patterns: An article titled, "How Does Color Affect Us?" published by Pantone, a world-renowned authority on color and all color-related trends, noted that "color is light and light is energy." A great deal of research has found that both psychological and physiological changes occur when humans are exposed to certain colors. They can excite and stimulate, calm and tranquilize, directly influencing moods, emotions, sleep patterns and even appetite. When choosing colors, graphics and patterns for a physical therapy clinic, it is crucial to take into consideration how they will affect patients and their rehabilitation. Bright, high-energy colors like red and orange can be used in the workout room to excite and keep spirits high, while cool blues, greens and other tranquil earth tones can calm and comfort in a massage room. The same mindfulness should flow through into graphic and pattern selections. Research has shown that people prefer natural-colored wood grains over non-grain surfaces. They also feel more comfortable with wood in comparison to more sterile options like glass or chrome. And as discussed in CDI's previous blog post on biophilic design, connecting patients to the outdoors and natural elements through windows, plants and natural patterns, textures and graphics can boost health and wellness in both staff and patients.

Functionality: Incorporating the best lighting, color schemes and furniture pieces mean nothing if a space lacks functionality. A physical therapy facility should flow seamlessly based on the specialized treatments that are being offered. Upon their first visit, a patient will discover if the space is easy to navigate, smoothly transitions between furniture and equipment and has the proper amount of space and elements needed to make their medical care and overall experience beneficial. A great deal of planning needs to go into mapping out a clinic's design, however, understanding the purpose and targeted clientele will aid in appropriately selecting furniture placement and strategizing architectural elements.
In recent months, Corporate Design Interiors (CDI) was presented with the opportunity to work with TeamRehabilitation, a network of therapist-owned outpatient physical therapy clinics located in Wisconsin, Illinois, Indiana, Michigan and Georgia. With three locations recently opened in the greater Milwaukee area and a fourth facility to follow quickly, Team Rehabilitation was looking for a unified aesthetic with their incorporated furniture solutions. In forming relationships with each of the clinic directors and working to understand their targeted approach to patient care, CDI has provided furniture, finishes and design support for the company that best suits their needs and brand identity. The following Kimball product lines were chosen for Team Rehabilitation's clinics based on a variety of features, sophisticated aesthetics and configurability.
Product Integration
Narrate™
With streamlined framework and unlimited configuration options, Kimball's Narrate collection is an exceptional solution for reception desk applications within physical therapy clinics. Not only does the collection's modularity allow for reconfiguration and layout modifications to accommodate employee growth, but its end panel system can be customized with graphics, mixed materials and various panel options to truly personalize a space. Narrate can also be broken down and transported to a new location, further solidifying its value in comparison to immovable millwork. View CDI's blog post on the Narrate collection for more information and check out Team Rehabilitation's Narrate reception desk installation below.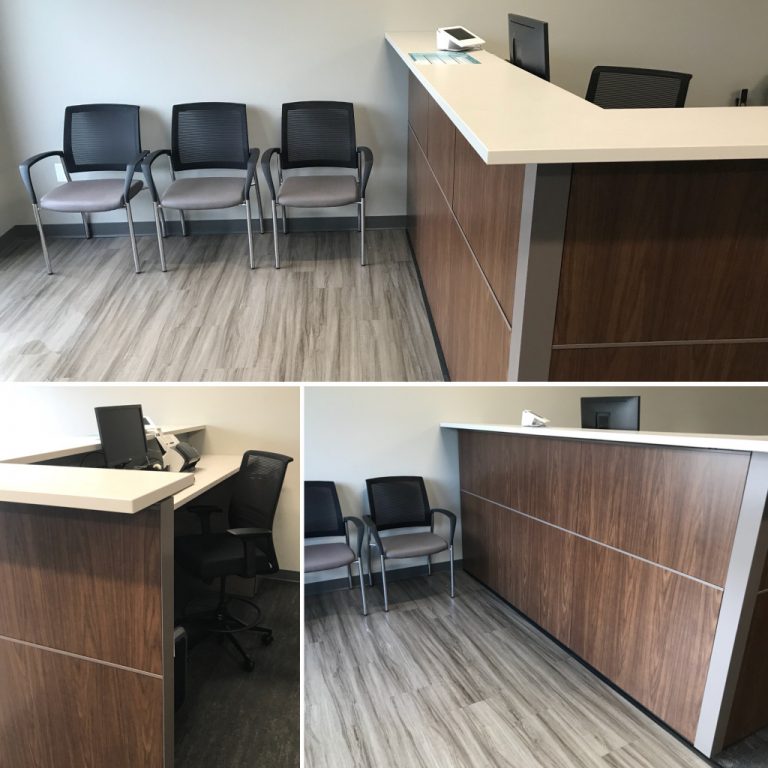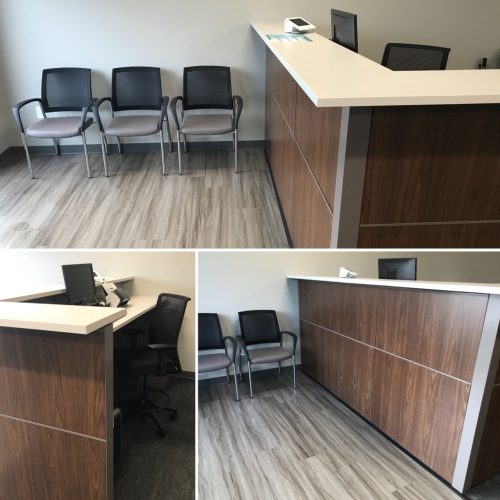 Sanctuary™
Kimball Sanctuary's well-crafted offering of patient room casegoods is easily incorporated within the physical therapy realm and can be specified to meet any clinic's needs. Boasting a versatile design menu of materials, shapes and base and feet options, combined with easy-access drawers and smooth glides, Sanctuary provides easy solutions for a customized aesthetic. In meeting with Team Rehabilitation's clinic directors, Sanctuary cabinets were tailored to preferred height and placed next to treatment tables, allowing for quick access to linens and small medical supplies.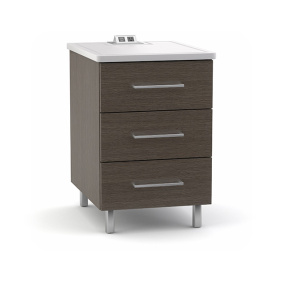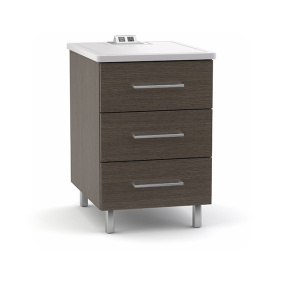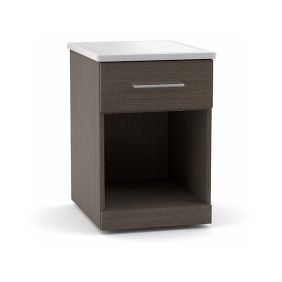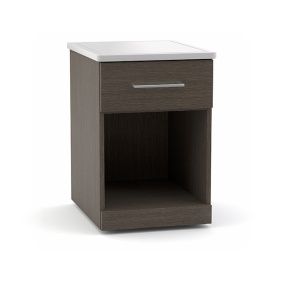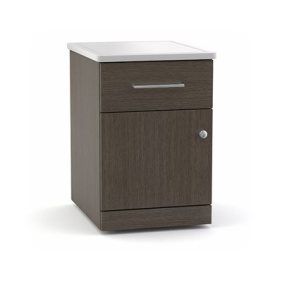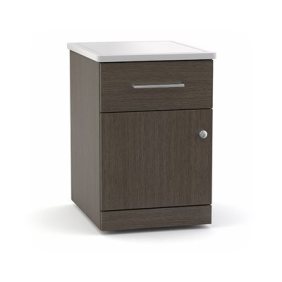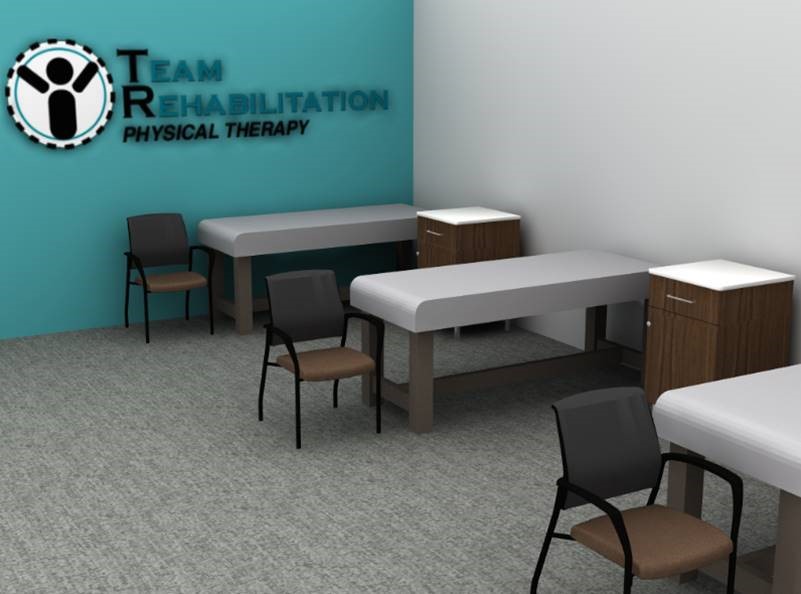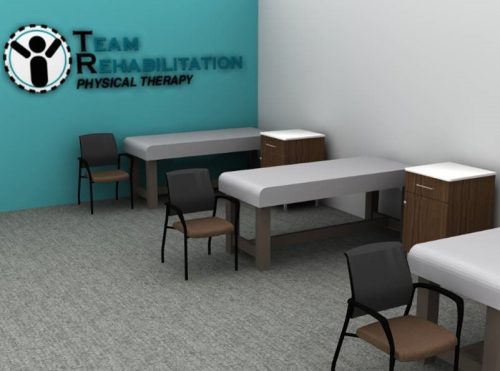 Joya™
Achieving a unified aesthetic throughout a clinic's seating offering is possible with Kimball's Joya. The sophisticated collection, which boasts a 3.5" seat cushion for increased comfort, offers a task chair and stool, side chair and stool, as well as a sit-to-stand task chair, giving staff and patients a seating solution no matter the task at hand. With a wide variety of arm and caster options, materials and ergonomic features, Joya is the perfect choice for physical therapy facilities like Team Rehabilitation. The clinic chose to incorporate the side chair in their reception area and beside treatment tables, as well as the task stool for the receptionist. Learn more about the Joya family of seating and its design details on the CDI blog.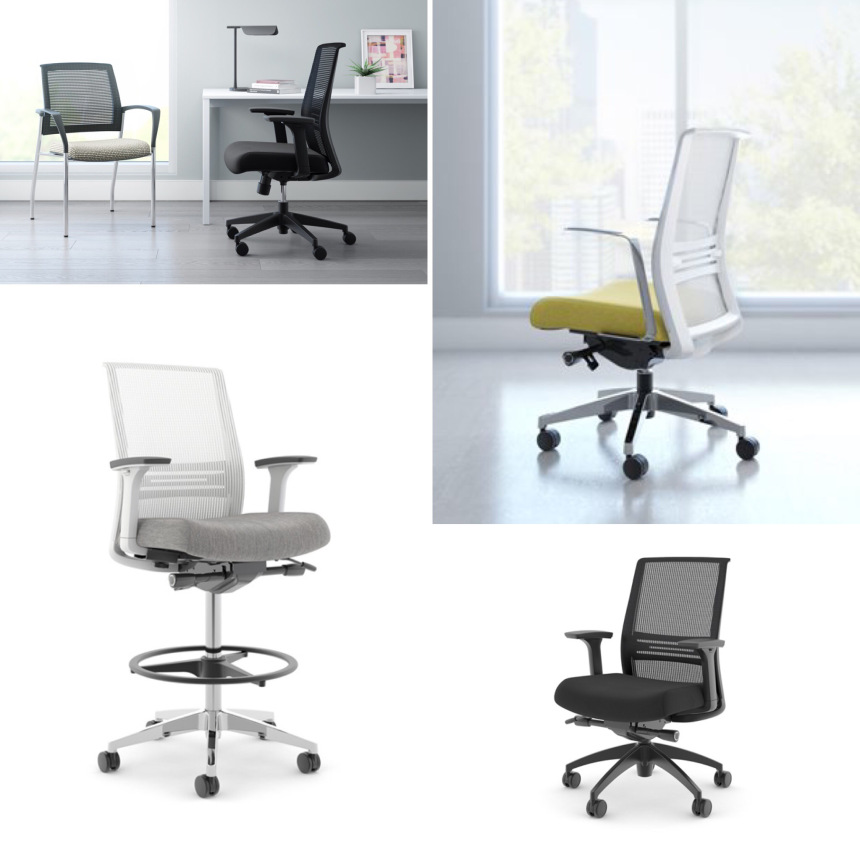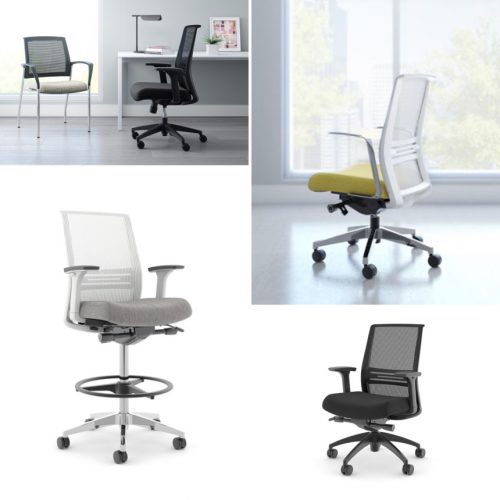 Alterna™
Designed to support the ever-evolving healthcare environment, Kimball Alterna provides durable caseworks solutions for the entire facility. The line offers a broad spectrum of easily installed models, all of which include components that can be reconfigured and repurposed should the need arise. Alterna's lockers are a perfect fit for physical therapy clinics as they give patients storage for their belongings while maintaining a consolidated footprint. For additional Alterna details and thought-starters, read its feature on the CDI blog.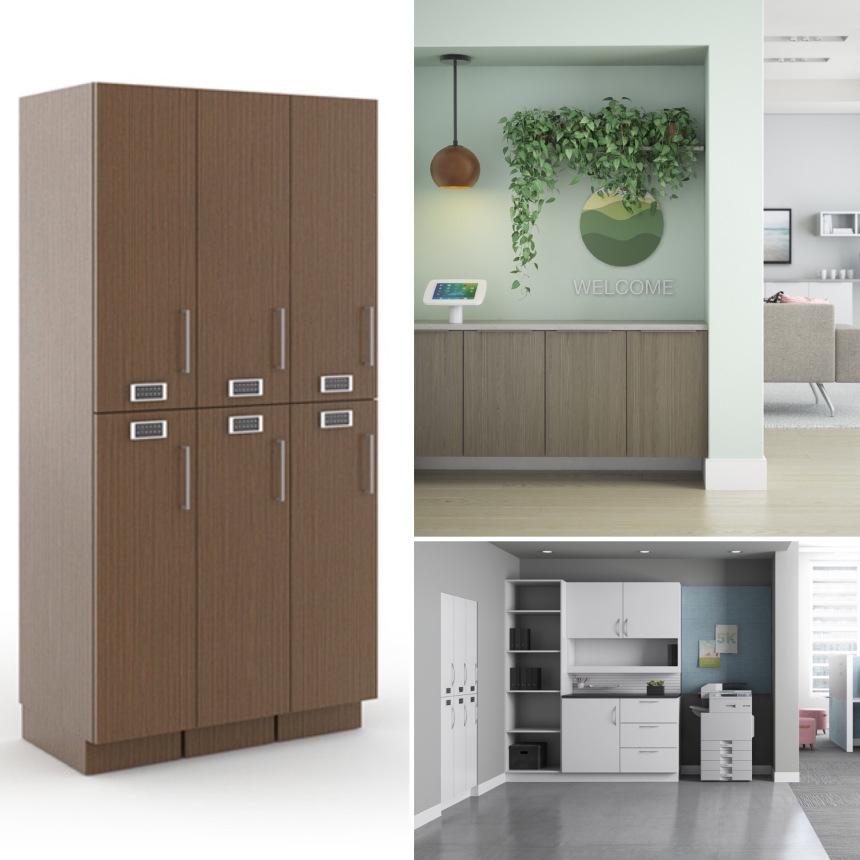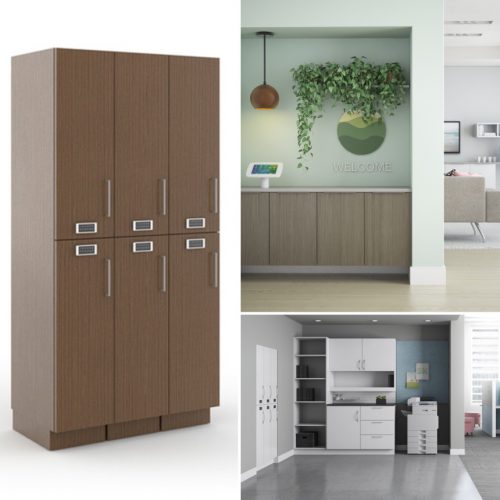 A Rejuvenating Destination
Physical Therapy Clinics bear the responsibility of providing a healing hand to everyone who walks through their doors. Through the implementation of perceptive design elements, facilities of all specialties can reap positive patient feedback and increased profitability. Whether you are a incorporating a subtle paint splash in soothing shades, bridging patients' connection to nature through finishes and artwork, or offering ergonomic autonomy through seating solutions, even the slightest design enhancement has the ability to evoke a positive first impression and turn a visitor into an established patient. After all, a healthy patient is a happy patient.

Let's talk about your business challenges today.
Our fresh perspectives, experience, and specialized skill sets will get your practice where you want it, and with far less stress.
https://corporatedesigninteriors.wordpress.com/2018/02/15/physical-therapy-clinic-design-creating-a-positive-and-profitable-rehabilitation-space/
---